Looking for an all inclusive Holiday in Singapore with cruise that doesn't burn a hole in your pocket ? What if you could book one of the best budget international trip under INR 50,000. You read it right, as MyDreamHoliday brings to you amazing Singapore Packages which includes Sightseeing, Visa, accommodation, Transfers and 2 Nights Genting Dream Cruise to Malacca (Malaysia) / Bintan Island (Indonesia).
Topping the charts in the world's most amazing destination, Singapore is a perfect family destination and travelers from across the globe take Singapore tour packages to experience the rich Southeast Asia Culture. Here's a 4 Night 5 Day Itinerary that will help you in making the most on your next Singapore trip.
Day 1 – Arrival & Night Safari Tour Singapore
Upon arriving in Singapore, Check-in at the pre-booked Hotel. After settling in the hotel and resting for a while, proceed for the Night Safari at world's first nocturnal wildlife park. Night Safari is a very well known attraction where tourists can take a 20 minute tram ride through 6 different geographical phases to see more than 130 species of animals in their natural habitat. Visitors can also see the Creatures of the Night Show which showcases the hunting and survival instincts of Otters, Binturongs and Hyenas. (Airport to Hotel Transfer – Seat in Coach)
Day 2 – Universal Studios Singapore
Universal Studio is Southeast Asia's first movie-themed park. Situated in Sentosa Island and one can reach here either by Bus, Monorail or Cable Car. It is Singapore's one of the most popular family attraction and it is always advised to keep a day aside to visit Universal Studio. The Theme Park covers an area of 50 acres and is divided into 7 zones (Hollywood, Sci-Fi, Ancient Egypt, Far Far Away, Madagascar, Lost World, New York). Undoubtedly, it is an amazing place for kids and adults. Pro Tip: Start Early to avoid any lines and enjoy all the rides and shows before it gets crowded.
Day 3 – Singapore City Tour ( Duration 3.5 Hours)
Check-out from the Hotel. Take the Singapore City Tour today to learn about the history and modern lifestyle. The city tour makes sure you experience major sights of the city. This includes tour to Merlion Statue which is located at the Merlion Park and faces the Marina Sands Bay. This is a must see attraction where tourists can view the Singapore River and Merlion Park. Tourists also drive through Little India, Chinatown & Chocolate Gallery. This tour gives great insight into Singapore's History and Development. At the end of the city tour, the rest of the day is at disposal before you embark the cruise.
Pro tip : After hotel check-out you can store your luggage in the hotel's Cloak room. After the city tour ends you can head out for some shopping, later pick your luggage and head to Marina Bay Cruise Centre to board the cruise. Cruise Boarding starts 5 hours before departure and gates close 1 hour before departure.
Day 3 cont. – Genting Dream Cruise Singapore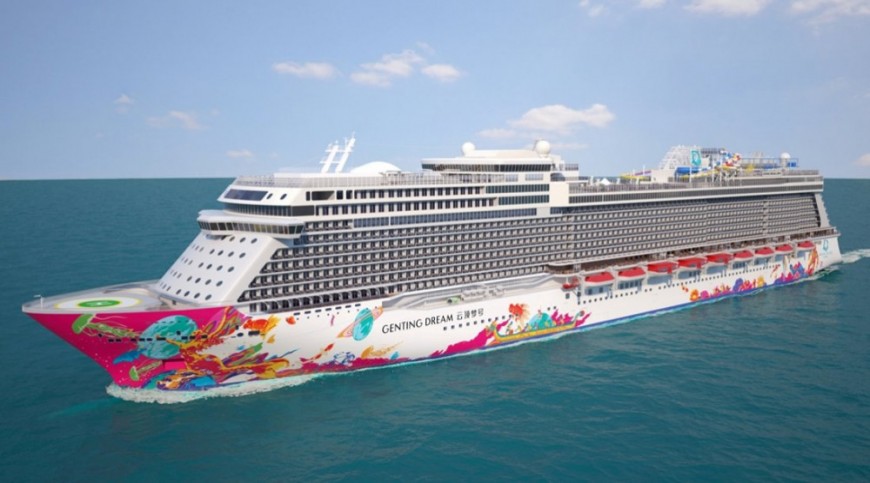 Embark on 2 Nights Genting Dream Cruise by Dream Cruises – Cruising is a great way to explore the world without the need of packing and unpacking multiple times. Genting Dream Cruise aims to provide guests with an exceptional and splendid cruise experience. Aboard the 2 Night 3 Days Singapore Cruise guests can either visit Bintan Island (Indonesia) or Malacca (Malaysia). If traveling to beautiful destinations is not enough to amuse you, there is so much onboard the cruise ship to enjoy. Genting Dream Cruise Ship is well equipped to provide guests an ultimate holiday experience. The ship has waterslides, Rock Climbing Wall, Golf Course, Rope Courses, Swimming Pools, Video Arcade, Movie Theatre, Bowling Alley and Casino. Genting Dream features 24 bars, cafès & restaurants. The cruise line also meets special dietary requirements like Jain meals, Vegan meals, Veg & Halal meals. Dream Cruise line organises and carries out many activities throughout the day to entertain guests of all age groups. Dream Cruise also provides Jain Food/ Vegan/ Veg Food for guests.
Day 4 – Arrive at Cruise Destination (Bintan Island / Malacca)
On the second day of your cruise from Singapore, the ship arrives at the destination port and anchors so that guests who want to explore the destination can disembark and do shore excursions (Paid) or stay back on the ship to relax. Below mentioned are the activities and shore excursions guests can do at the destinations:
Bintan Island (Indonesia) – Bintan Island makes a great Singapore Escape for couples and families with kids. Bintan Island is best known for its Culture, highend resorts and white sand beaches. Guests can explore the enchanting mangrove with a relaxing cruise on the custom built pontoon boat. Capture photos of wildlife and bask in the tranquility of the mangrove. Bintan island also features Lagoi Bay which has Crystal Blue Water. At Lagoi Bay the following activities can be done – Snorkelling, Jet Ski, Beach ATV or Kayaking.
Malacca (Malaysia) – Malacca in Malaysia is also spelled Melaka is a strutting tourist hub. Once Malacca used to be a faded port. Colonized by Portuguese, Dutch and British, influence can be seen on Food, architecture and even in language. Tourists arriving at Malacca can many beautiful places such as St. Paul's Church, Cheng Hoon Teng Chinese Temple, Sultanate Palace, Malacca Zoo, Famous Fort Christ Church etc.
Day 4 : Singapore Vacation and Cruise Trip Ends Today
Upon arriving back in Singapore Transfer back to Changi Airport Singapore for your return journey.
Trip Type: Family Holiday + Cruise Vacation
Cost: Rs 50,000 Per Person
Duration: 4 Nights 5 Days
Inclusions:
Multiple Entry Singapore Visa
Night Safari Singapore
City Tour & Sightseeing
Universal Studio 1 Day pass & 2 Way SIC Transfers
City tour
Transfers on SIC basis
3 Star Hotel Accommodation (2 Days)
2 Nights Genting Dream Cruise (Interior Cabin)
04 Complimentary meals a day Onboard Genting Dream Cruise
Exclusions :
Airfares
Any meal or snack you have at other restaurants other than specified above will be chargeable
Food & Beverage Orders
Optional Shore Excursions
Any expenses of personal nature